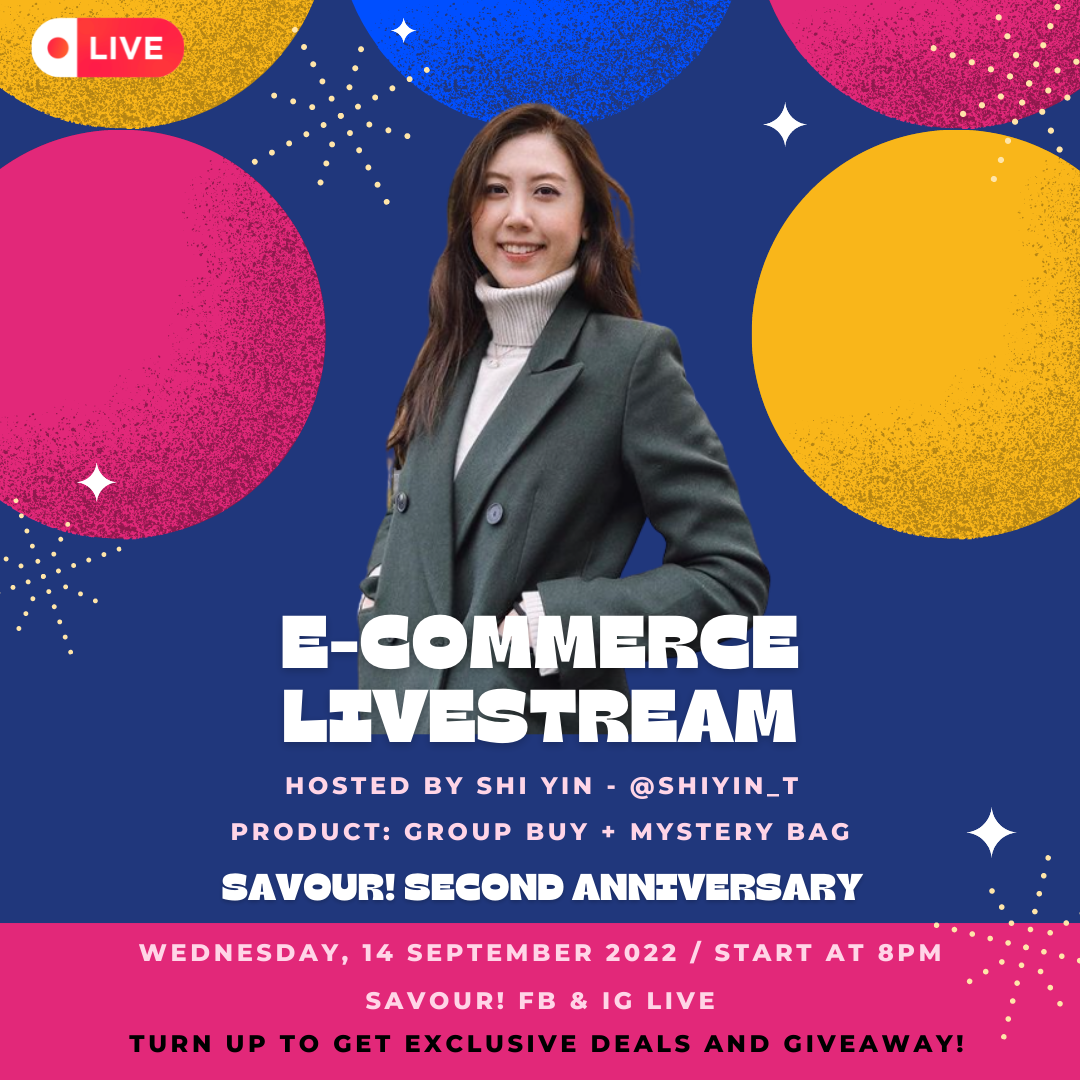 Influencer E-commerce Livestream – Shi Yin
Savour! 2nd Anniversary is going to end soon, but, great things always come at the end and we are still having a special event offer to all of you as a way to show our thanks for the support from all the merchants and customers that have been following Savour! From the beginning as well as everyone helped Savour! in the backstage.
On 14 September 2022, Savour! happy to announce to have Shi Yin (@shiyin.t) to be the host of this product Livestream. Shi Yin is an influencer that is passionate about foods and drinks as well as she is a big fan of sustainability, so it will be an interesting collaboration for both of us.
The main focus in this Livestream will be on Savour!'s product called Mystery Bag, which is for those that want to have a surprise treat not only in terms of the product but also the price since it aims to help reduce food waste by offering you expiring products or damaged packaging.
The products that are featured in this Livestream will target working adults, so these are the featured merchant list that provides products from our platform:
Avally Imex (Human Nature)
Min Hiang Food (First Brew)
For details on the featured merchants, CLICK HERE
And, browse the product catalogue, HERE
Below is the exclusive promotion for Shi Yin's Livestream that you can apply for orders made during the Livestream and upon checkout on the platform directly:
$5 off first order for followers of the host (Apply "Shiyin5"), valid for 30 days from the Livestream date
There will also giveaway during this Livestream, so please complete the 3 steps below before the Livestream & we'll announce 2 winners during the Livestream who'll win attractive prizes!
1. Follow Savour!'s IG and FB page
2. Like this announcement post
3. Tag 3 friends in the comment section
Please make sure you don't miss this chance from us by attending the Livestream on the 14 of September 2022, also keeping up with Savour! Social media channels for more information and special discount!
⸻
Written by Louis
Louis is the Communications and Marketing Intern at Savour!