New Munch Boxes (Japanese, Korean & Healthy Treats)
Munch Box Launch
We at Savour! have an assortment of snacks in our new munch boxes for your consumption. We have launched a Japanese, Korean & a healthy box. Read on for more details.
Enjoy our Japanese box with a selection of snacks for those who love Japanese culture.
Morinaga - Hi-Chew Candy
Cororo - UHA Gummies (Grape, Shine Muscat, Cola)
Murgerbon - Wasabi Almond (30g)
Glico - Collon Cream Biscuit Roll (Strawberry/Chocolate)
Calbee - Prawn Crackers Bundle (Original/Black Pepper/BBQ/Spicy/Grilled Squid Seaweed)
Snekku - Shoyuemi Japanese Noodle Snack (Black pepper/ Original/ Seaweed)
Want Want - Seaweed Rice Cracker
The Korean box is for those Korean food aficionados, looking for the Korean food experience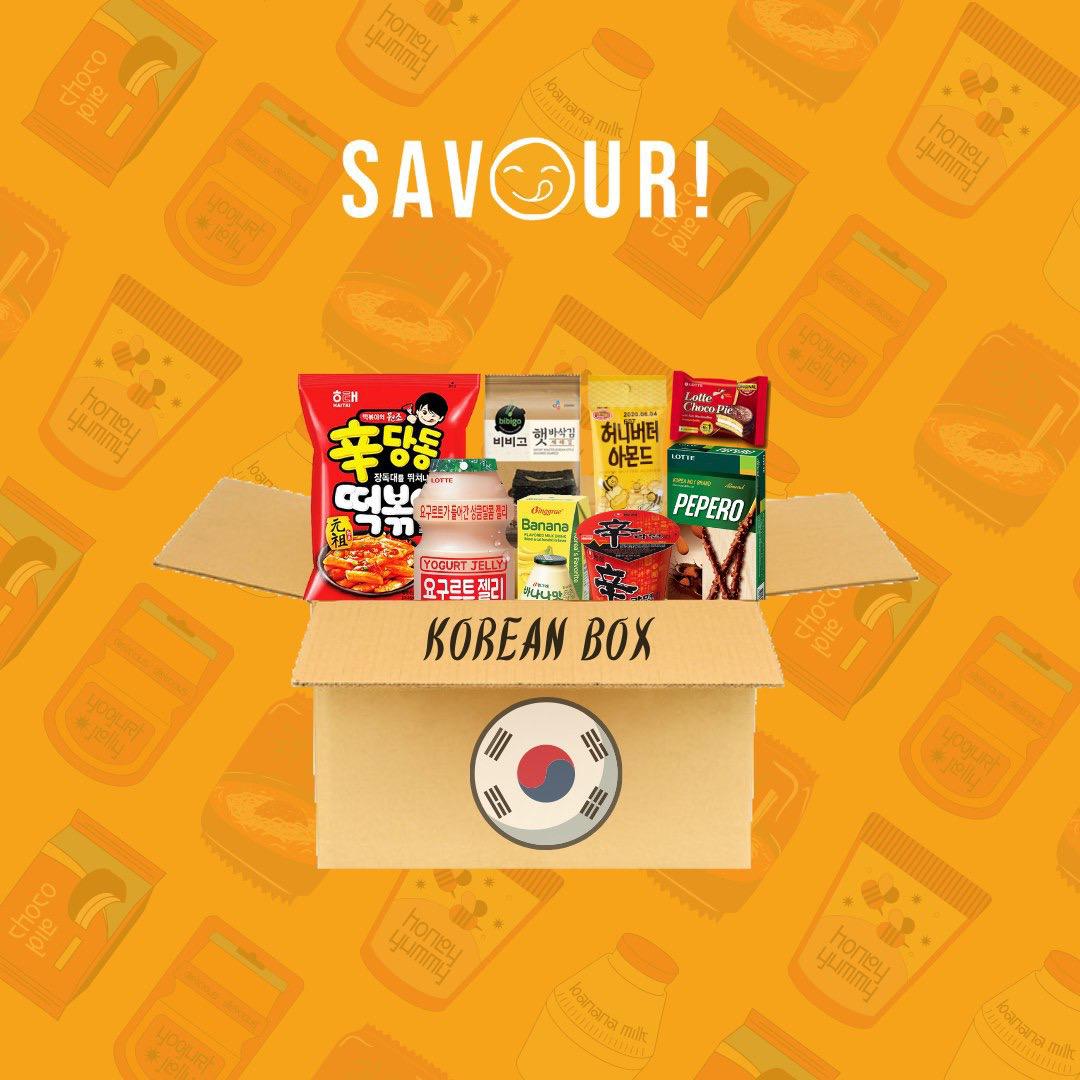 Pepero - Almond Chocolate
Lotte - Choco Pie (Original/Cacao/Green Tea/Banana)
Bibigo - Savoury Roasted Korean Seasoned Seaweed (4g)
Nongshim - Assorted Ramyun Variety Cups
Binggrae - Banana Flavoured Milk Drink
Lotte - Yogurt Jelly
Murgerbon - Honey Butter Almond (30g)
Haitai - Sindang Dduk Snack (Korean Rice Cake Snack) (100g)
The healthy box is a selection of snacks that are suitable for the health conscious consumer
Amazin' Graze - Granola Variety Box (40g)
Amazin' Graze - Mini Dark Chocolate Brownie Chips (30g)
(Chocolate Hazelnut/Blueberry Coconut/
Tong Garden - Nutrione Daily Pack Baked Nuts & Dried Fruit
(Apple Pie/Mango Tango/Berry Mix)
Tong Garden - Sunflower Seeds (Honey)
Glico - Pocky Wholesome (Blueberry Yogurt/Chocolate Almond)
Glico - Pretz Salad Pocky
Carman's - Muesli Bars Classic (Fruit & Nut)
Uncle Tobys - Wholegrain Muesli Bars (Strawberry Yogurt/Forest Fruits/Mango Passionfruit/Choco Chip)
Hope you enjoyed reading about our munch box & are looking forward to ordering your snacks. We at Savour! are looking forward to hearing from you & are excited to be of service.